---
8 Ways to Upgrade Your Backyard for the Summer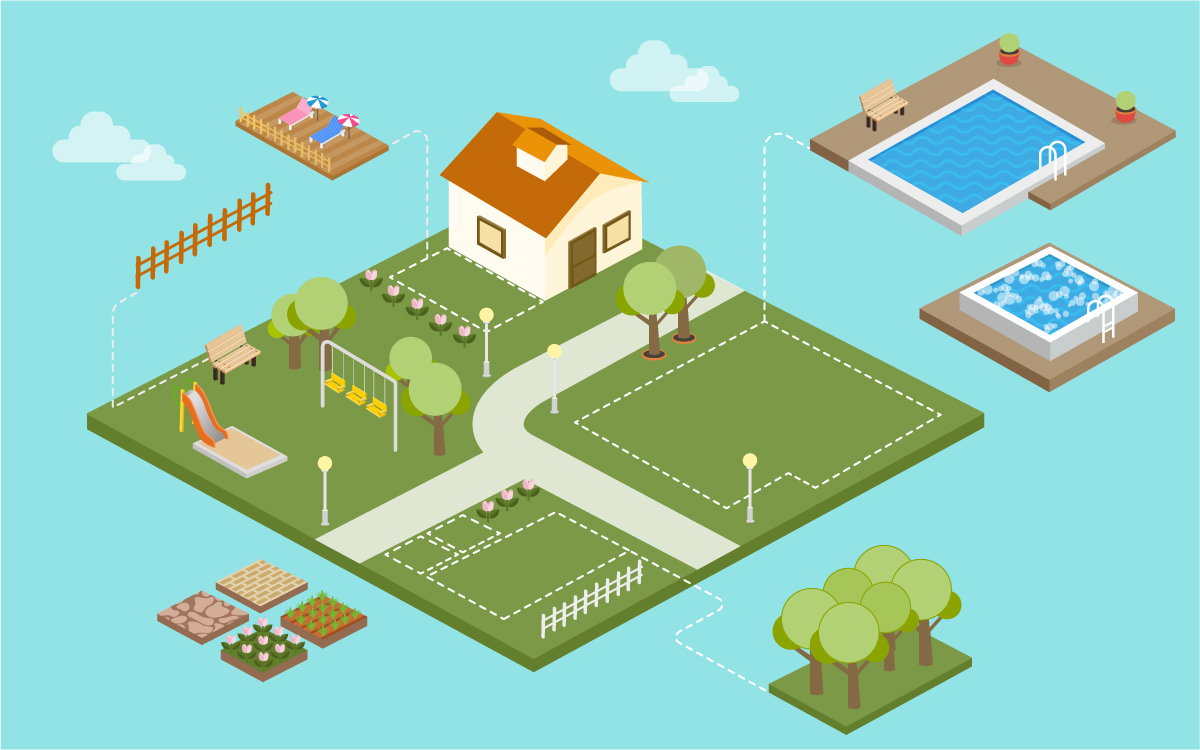 Summer is upon us and what can be better than spending time outdoors with friends, family or just a good book? If you are lucky enough to have a backyard, you already have the perfect place for everyone to gather and enjoy the sunshine and fresh air. Is your backyard ready for you to receive and entertain? If not, here are a few ways to fix it up, taking advantage of the warm season.
1. Privacy Fence
Installing a privacy fence on the property can have numerous benefits. Fences create a sense of privacy, while also adding security and clearly delineating property lines. In addition to protecting you from pesky neighbors, fences can also offer some lesser-known benefits, like breaking the wind (important for gardening) or reducing the noise levels on your property. If you have small children or pets, a privacy fence can help keep them safe and supervised. Another major advantage of a fence is an increased property value. By deftly enlarging perceived living space, fences positively affect resale value and create more marketable homes.
2. Swimming Pool
If you have the space for a swimming pool, it's a shame not to have one. While in-ground pools represent an enormous investment of time and money, they can actually add value to your home, especially when properly designed, landscaped and built by a professional pool construction company. Having a pool provides numerous health benefits through swimming and water exercise and offers a great way to cool off without going out. A pool can also serve as a luxurious entertaining area for summer parties and gatherings.
3. Hot Tub
If you don't have room for a pool, but still want some water action, you may consider installing a hot tub. Soaking and relaxing in an outdoor hot tub is one of life's greatest pleasures, even if it comes with some maintenance. Try to place your hot tub by the existing walls or railings, avoiding having all of its sides exposed. To determine the best location for the tub, consider privacy, access to the house, shading, and don't forget to leave additional room for sitting and walking around the fixture. Properly placed, installed and decorated, a hot tub can offer a unique spa getaway right in your backyard.
4. Deck
Do you already have a deck, which used to serve your needs, but now you wish you could get more out it? Or perhaps, you always wanted a deck but haven't gotten around to building one yet? In either case, now is the perfect time to undertake that project. You can always take your party outside onto a beautifully designed deck space, if you have one, and if you don't, decks are fast to construct, are relatively inexpensive and can increase your usable yard space. Homeowners with existing decks can consider adding a bit more square footage to them by doing a build-out, which could be on the same level with the old structure or placed one step down or one step up to add some dimension, depending on your landscape. Another benefit of adding or renovating the deck is that it is likely to raise your home value by increasing the living area at a minimal cost per square foot.
5. Shade
Having the right amount of shade can turn your backyard into a delightful sanctuary in the summer, as even the most avid sun-worshippers welcome a little relief from time to time. There are many ways to add shade to your outdoor spaces, including the swimming pool, hot tub and deck areas. If you have trees on your property, you are way ahead of everybody else, as mature trees are the best source of shade currently known to man. If you don't, and would rather consider alternative methods, there are many for you to choose from, including climbing vines, pergolas, retractable canopies, umbrellas and outdoor curtains.
6. Gardening and Landscaping
While your front yard may only allow for planting flowers and grass in most states, your backyard is a different story. If you are a "gardening type" and have the space for it, why not turn your backyard into a farm-to-table event by planting herbs, vegetables and berry bushes? Depending on your climate, you can set up a "nature's bounty" for all of your natural cooking needs – pick fresh basil for your Caprese and rosemary for your roasts, all in your backyard. And while you can use landscaping to beautify your outdoors space with flowers and climbing vines, don't forget about the "edible landscaping," which will also nourish your palate.
7. Walkways
A walkway directing your guests to various areas of your backyard is a very special touch. If you have the space and want to create the path around your backyard or through the garden, you can use bricks, stepping stones, gravel, concrete or even plain dirt for a rustic look. To make your life easier, you can create an illusion of natural stone by using easy-to-mix, plastic concrete forms, which can imitate various types of stone that otherwise would be very expensive.
8. Lighting
Whatever you have going on in your backyard, the lighting can make or brake any activity. Fortunately, you have multiple options for illuminating your outdoor space after sundown. Decorative outdoor lighting can add fun and style to your backyard and it doesn't have to cost a fortune. Deck lights, landscaping lighting, rope lights around flowerbeds – those are just some of the ways you can make your backyard a little brighter. If you are an eco-friendly type, you can consider adding solar lights, which will allow you to accent the walkways and flowerbeds without needing the services of a licensed electrician.
There are many ways to improve your backyard in the summer and turn it into an outdoor oasis for your friends and family. Some may require monetary investment, which if done right, will pay off over time, and others may call for some elbow grease and creativity. If you have a good plan, tackle one project at a time and employ qualified construction professionals, when needed, you too can build a backyard of your dreams and enjoy it through the summer and beyond.