---
Tech Trends Transforming Construction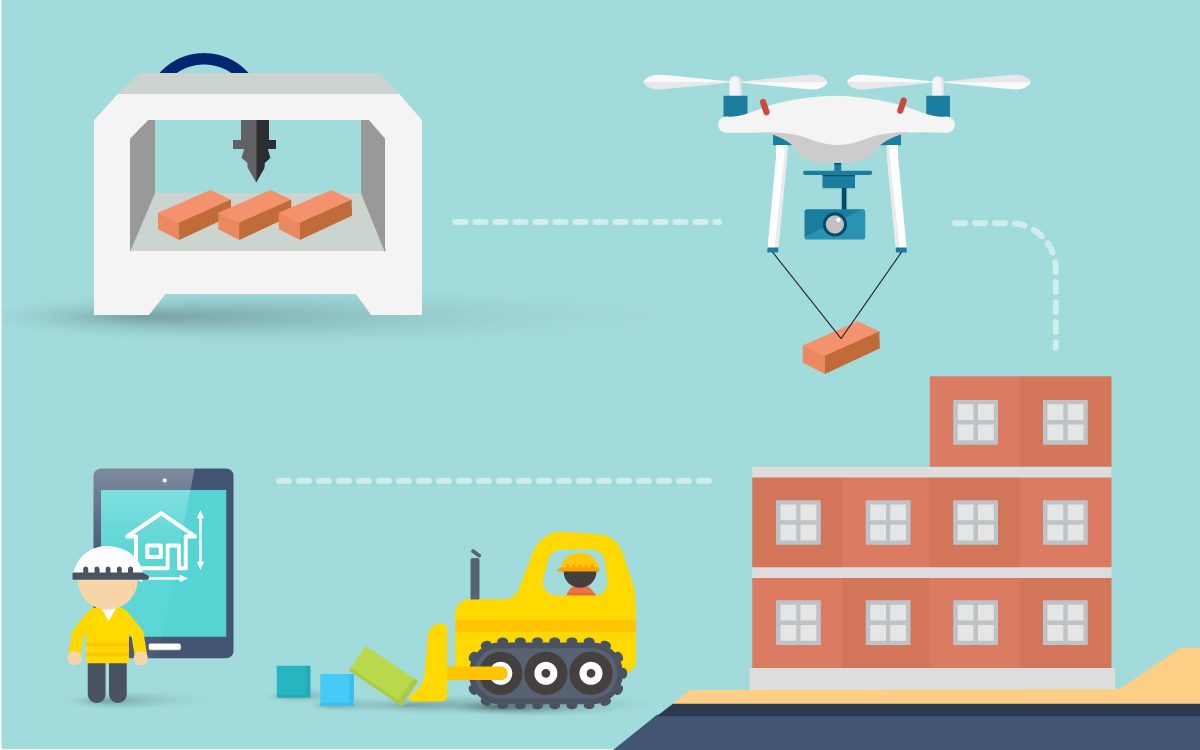 We live in the age when every day offers a bounty of exciting tech innovations and life-changing gadgets. Amazon founder Jeff Bezos said that, when it comes to technology, "We are on the edge of the golden era" during his interview in May at the Code Conference in Southern California. Indeed, technology will continue to impact nearly every business in the foreseeable future and construction is no exception. Equipped with the right tech tools, companies can set new standards in safety, efficiency and productivity.
Let's explore several tech innovations transforming the construction industry today.
Wearable Tech
An ordinary construction uniform becomes extraordinary when equipped with smart sensors. A growing number of companies are now putting sensors in hard hats, boots, wristwatches and safety gear of the crew, which helps monitor field conditions and even track workers' vital signs. Some innovators go even further and manufacture construction gear with tech already built in. Los Angeles-based DAQRI's Smart Helmet, for example, offers a transparent visor, special lenses and 4D augmented reality to give the wearer a heads-up. This "hard hat of the future" even gives instructions on completing tasks and warns a user of potential hazards.
Drones
Drones have proven to be instrumental in site surveying and project monitoring. Obtaining an aerial view no longer needs to cost a fortune, when a single drone, priced under $1000, can survey and take pictures of hard-to-reach or heavily congested sites. Data collected by drones can then be loaded into a digital imaging program and provide insight into projects' progress and deficiencies.
Tool Tracking
More and more construction companies are outfitting their work tools with barcodes. This prevents the equipment from being lost or misplaced and helps companies save time and money, while eliminating hazards of potentially dangerous tools left in the wrong place. Scanning barcodes in the beginning and the end of each day helps companies keep track of their equipment. In addition to reducing losses, tool tracking can help accurately forecast future inventory needs, so that the right amount of supply is always on hand.
3D Printing
This technology has been making waves and impacting multiple industry sectors from industrial manufacturing to fashion in recent years. Revolutionizing the way we translate ideas to objects, 3D printing offers unlimited potential for construction. Originally, architecture firms used this technology for easy modeling, but now its influence spread into the real world of construction, where 3D printing is being integrated to produce complex building forms, reducing the production time from weeks to mere hours. This technology can assist in building modular parts as well as entire houses. The first 3D printed estate by architect Adam Kushner is coming to New York in 2017. It will feature a 2,400 square foot home and (of course!) a 3D printed swimming pool.
Paperless Construction Management
A lot of innovation in recent years has been about going paperless. Technology has lightened the "paper load" in multiple industries across the board, including banking, insurance, accounting and many others. But what does "paperless" mean for construction? Replacing conventional paperwork with digital files, fully or partially, enables companies to capture costs and other critical information in real time, while also making the data more secure. No need to chase a single document lost somewhere in the file cabinets. When digitized, every file is at the user's fingertips, not to mention, taking up a lot less physical space.
Mobile Apps and Platforms
Apps and digital platforms can influence construction business in a number of ways, including estimating costs of projects, creating job scopes with unparalleled accuracy or calculating the supplies and staffing needs. Online and mobile tools can also bring homeowners and contractors together through digital marketplaces, much like Uber brought together drivers and passengers, eliminating the middleman and setting new standards in cost efficiency. Another critical transformation mobile apps can offer is project management on the go. A good app can help a project run smoothly and allow everyone involved, from the contractor to the customer, to stay in sync and on track. From planning to seamless execution, mobile apps and digital platforms are definitely transforming the way construction projects are managed, making them more transparent, timely and efficient.