---
Smart House: The future is here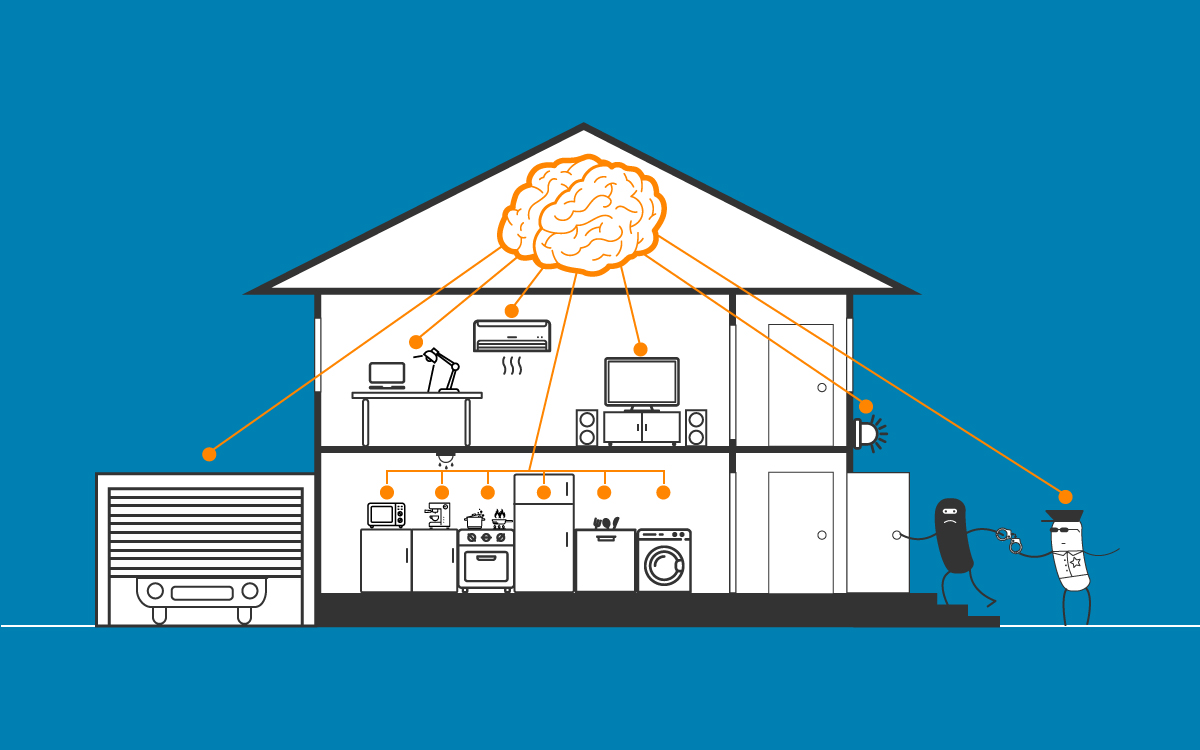 What is a "smart house" and are you ready for one? The term itself commonly refers to a home where various systems are integrated within the same computer network, able to communicate with each other and to be controlled remotely.
Responding to the need for a clear and unified designation of what makes a "smart house," Coldwell Bankers Real Estate LLC collaborated with CNET, the world's leading online source for consumer technology news, and presented the following definition, first of its kind in Real Estate:
Smart Home
"A home that is equipped with network-connected products (aka "smart products," connected via Wi-Fi, Bluetooth or similar protocols) for controlling, automating and optimizing functions such as temperature, lighting, security, safety or entertainment, either remotely by a phone, tablet, computer or a separate system within the home itself."
The initiative, designed to embrace new technologies and allow buyers and sellers to tap into a specific demand, also issued additional criteria in support of the original definition. To be considered a smart home, the property must have a smart security feature or a smart temperature feature in addition to a reliable Internet connection. It must also have supplementary smart functions in at least two of the following eight categories:
1. Lighting
From smart light bulbs to entire smart lighting systems, the technology is racing to help you illuminate your home the "intelligent" way. Phillips Hue, for example, has become synonymous with a "smart lighting" concept, as it offers you a complete control over lighting in every room of your house, even when you are not there. Using the app, you can schedule your lights to turn on at certain times or turn off gradually at night. There is also an option for "comfort dimming" and various extra functions, like notifications or alarms.
2. Safety
Technology didn't just make our homes more sleek and functional; it also made them safer. Smart smoke detectors can provide you with alarm notifications right on your smartphone. Wired into your security system and connected to the central station, they can also notify you and a local fire department in case of any smoke or fire threat. You can also set them up to shut down the air handling systems in your home, to prevent the spread of smoke in case of a fire, and allow for a safer evacuation. To add yet another layer of safety (or, in case you have frequent false alarms with your smoke detector), you may also consider adding a heat detector, set to detect a sudden change in temperature and issue an immediate alert.
3. Entertainment
Originally dubbed "connected TVs" and later re-branded as "smart TVs" by companies like Samsung and LG, these sets offer a new level in family leisure and entertainment. The network connection (via either Ethernet or Wi-Fi) allows the user to access various streaming services and connect to the Internet using a remote control. At the moment, there is no standard interface for smart TVs, as various manufacturers use their own software and graphical presentations, however, most sets offer access to popular streaming services like Hulu, Netflix and Pandora.
4. Appliances
Smart appliances are connected to Wi-Fi and have the ability to communicate with your smartphones or tablets. There is a number of them available on the market, including complete lines offered by Whirlpool and GE. Smart refrigerators can keep track of the food stored inside through bar codes or a radio frequency identification (RFID) scanning and let you know when you run out of something and need to restock. Smart washers, dryers and dishwashers can alert you when their running cycle is complete or in case of any functional problems. All smart appliances can be operated remotely through their corresponding apps, allowing for the unprecedented levels of control and functionality and helping homeowners save money and energy.
5. Heating / Cooling
Smart Heating, Ventilation and Air Conditioning (HVAC) systems can solve problems their analog predecessors simply could not. The new generation of heating and cooling devices has the ability to "learn" how much heat or air is needed in every part of your house, setting new standards in comfort and energy efficiency. Smart fans and vents can be used to regulate your home's temperature, room-by-room. A smart vent system by Keen Home, for example, allows you to customize your temperature needs and can reduce energy usage and cost by up to 30 percent.
6. Outdoors
If you are a landscaping or a gardening type, there is a range of new technologies that can be used to make the outdoor areas of your home a little "smarter." Sensor-controlled systems can monitor everything in your garden, from soil moisture to weed overgrowth. Smart sprinklers can use weather reports to ensure the most effective watering schedule. There is even an open source "farm-bot" (pretty much a complete gardening robot system) that has been making rounds on the Internet. Of course, manual gardening is a joyful and relaxing activity for many homeowners, but, if you work full time, while still wanting to grow your own food, this robot may just be for you!
7. Security
Smart locks, doorbell cameras and alarm systems are just some of the "intelligent" security updates available for your house. If you think that traditional locks and keys are a thing of the past, perhaps you are ready for the next generation of security gadgets, all operated from a smart device of your choice. Keep in mind that smart locks are more than just key-less door locks – in fact, most of them still accept conventional keys. A smartphone is not a replacement for a key, but rather, it provides access to a "virtual key," offering more versatility in how we secure our homes. You can even assign multiple "virtual keys" for several users. A smart lock or a doorbell camera can provide a new level of functionality when integrated with the home's entire security system.
8. Temperature
While we already discussed smart heating and cooling systems, there is a whole new level of temperature control that can be achieved with smart thermostats. Accessed remotely, they can do a number of handy things, like warming up your house before you get back from a vacation or sending you an email alert when your home temperature falls below or rises above a certain level. The Nest Learning Thermostat, designed by the same guys who created the I-Pod, is a very stylish option, sporting a slick round shape and jam-packed with cool technology like activity sensors, Wi-Fi radio, three temperature sensors and a humidity sensor. Another top choice is Ecobee3, offering a highly functional app design and motion-detecting sensors for a  more complete temperature control throughout the house.
With more and more "smart technology" available for our homes, the future of a house completely "intuitive" of its owners' needs is not very far away. Every day we learn about new gadgets that can make our households a little "smarter." If you are not sure whether you are ready for a "smart" house upgrade, you can download this handy 17- question checklist from Electronic House and decide for yourself if you want to bring your home up to speed with modern innovations.