bdblogger
August 11, 2016
---
Six ways to update your kitchen without a major remodel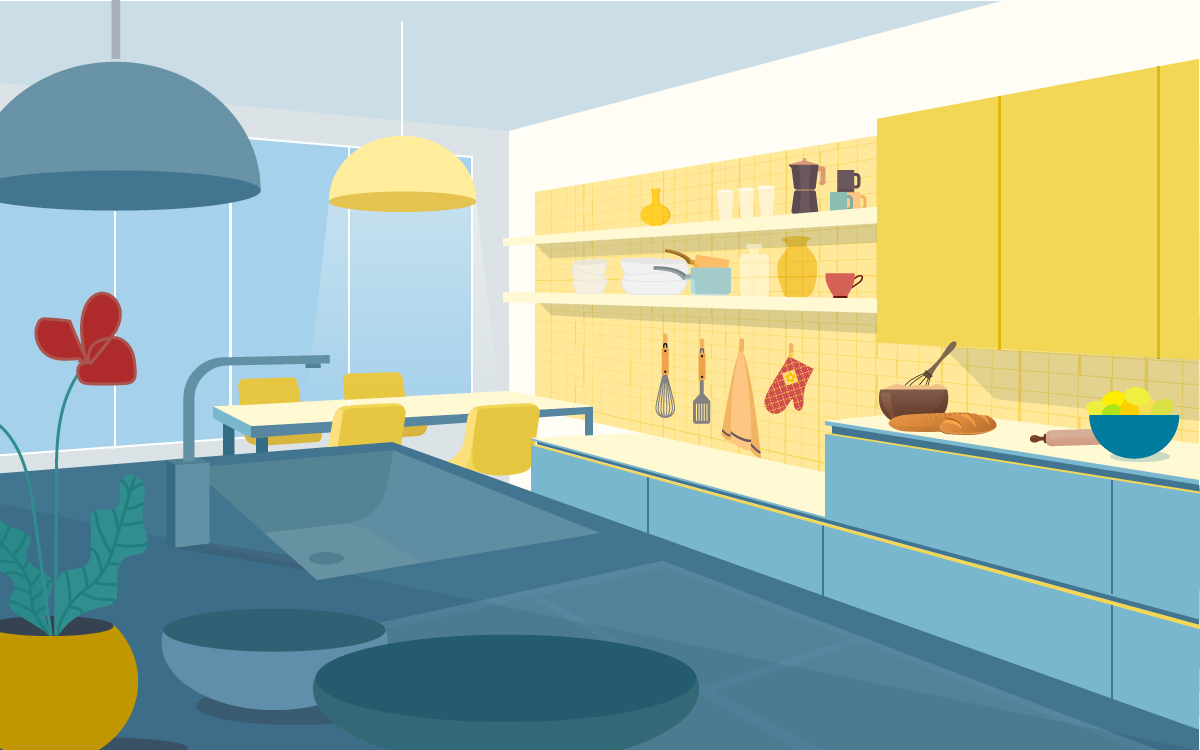 A great kitchen is a heart of any home. The days when it was just a place to prepare family meals are long gone. Nowadays, kitchens are also dining rooms, gathering spaces, entertainment hubs and art galleries for your children's drawings. Is your kitchen all that you want it to be or are you ready for a change? There are many ways to update your kitchen without embarking on a full-scale renovation if you are not yet ready for it.
1. Repaint
Painting is probably the easiest and most affordable way to update any room and the same holds true for the kitchen. If you are not planning to sell your property anytime soon, opt for the bright colors to create a playful and friendly atmosphere. If you are considering a resale, you may want to stick to neutral colors, while still creating dimension by using different shades of the same color on different walls. One way to do it is by creating an "accent wall." For example, if you chose light gray, the "accent wall" should be a couple of shades deeper. For inspiration, check out this gallery of elegant kitchen color schemes from Benjamin Moore.
2. Refresh Cabinets
There are many ways to spruce up your kitchen cabinets without completely replacing them. A couple of options are repainting and refacing. If your dark cabinets make your kitchen feel more like a cave than a family room, cleaning them up and painting them a lighter or brighter color will make the space feel a lot "sunnier". Refacing is a more complex process, involving replacing cabinet doors, drawer fronts and metal hardware, including hinges, pulls and handles. Refacing can give you the look of new cabinets for about half the cost and it's also a greener option, as it will save your old cabinets from the landfill and new trees being cut down. Another option to refresh the look of your cabinetry, is removing some cabinet doors altogether to visually create more space.
3. Add Storage Space
If you are lacking upper cabinets or storage space in general, you may consider adding some shelving and other storage accessories. There are many kinds of shelving units available on the market that can be easily and cheaply installed and will provide extra functionality and display space for your everyday needs. To go a step further, add practical accessories, like hanging potholders, magnetic wall-mounted knife blocks, wire shelves and under-cabinet baskets and pegboards that can hold almost anything with a right hook. Wayfair carries a wide range of kitchen storage and organization products for all your additional storing needs.
4. Add or replace your backsplash
A backsplash is not only handy for catching splatters while you cook; it is also a functional element that can add color and texture to your kitchen. If your backslash is outdated or you don't have one at all, it's time to change that. You might consider putting in new tiles or simply painting over your existing backsplash. If you decide to go with painting, use hi-gloss or semi-gloss paint. The glossier the paint, the more it will resist moisture and you can just wipe it down clean after you finish dinner. Putting in mosaic tiles is another good option and it can be done in a short time since the backsplash is a relatively small area. If you have a neutral-colored kitchen, choose colorful mosaics for this project to give your kitchen some personality and a fun, updated look.
5. Add or change lighting
Updating old-fashioned light fixtures in your kitchen seems like a small step, but it will make a huge difference in the way this room looks and feels. A stylish and colorful "pendant light" can be an easy and inexpensive addition that will completely transform the entire space. You can hang one or several, or go for a cluster of mini-pendants. Positioned over islands and tables, they'll brighten the space up for tasks, while making your kitchen look brand-new. There are many different styles available in various finishes, from hand-blown glass to brushed nickel and steel. We love this elegant pendant light collection from Euro Style Lighting.
6. Update your sink and faucet
Replacing your sink and faucet can make your entire kitchen look more fresh and modern. Even though you are limited by the size of your countertops, you can still find something that strikes your fancy and aligns with your aesthetic, as there are countless models available on the market in a number of materials and finishes from stainless steel to copper and cast iron. Compared to other upgrades, replacing the sink and the faucet is surprisingly affordable, even if you have to hire a professional to do it. Check out "Best Kitchen Sinks – Reviews, guides & Top Picks 2016" from Best Kitchen Faucet Hub for helpful advice, tips, reviews, ratings and helpful info on the best sinks manufacturers today.